With the NYCC starting tomorrow and Hasbro doing their press event tomorrow morning, I decided to give myself a break from the NCS (don't worry Cobra is coming) and do a new Ideals Wave. Given that I had just finished the Spider-man Lizard wave (at least until tomorrow where I hope they finish that wave), I decided to do a Spider-man (to which I have dozens of Ideas).
As people know I already did one version of this before (you can find it here – Version 1.5) so I won't be using any of those. I want to try a create a whole new wave of figure this time. There may be a few repeats (particularly with Spider-men) but it should be a new wave none the less.
As always, the rules:
6-8 figures per wave. No more. No less.
Some version of the Title hero most be in it (Spider-man this wave duh!)
1 or 2 Female per wave.
1 or 2 Villains per wave, but these could be female as well.
1 or 2 brand new character that has never been done before
1 or 2 remakes. The Remakes can also be new costumes as Like Classic Spider-man or Iron Spider.
Each wave most have a Theme ie Spider-man can include Street Level heroes or Iron Man can include Tech Heroes and villains.
The Theme for this wave: Street-Level
As always we start with the hero.
---
1. Spider-man India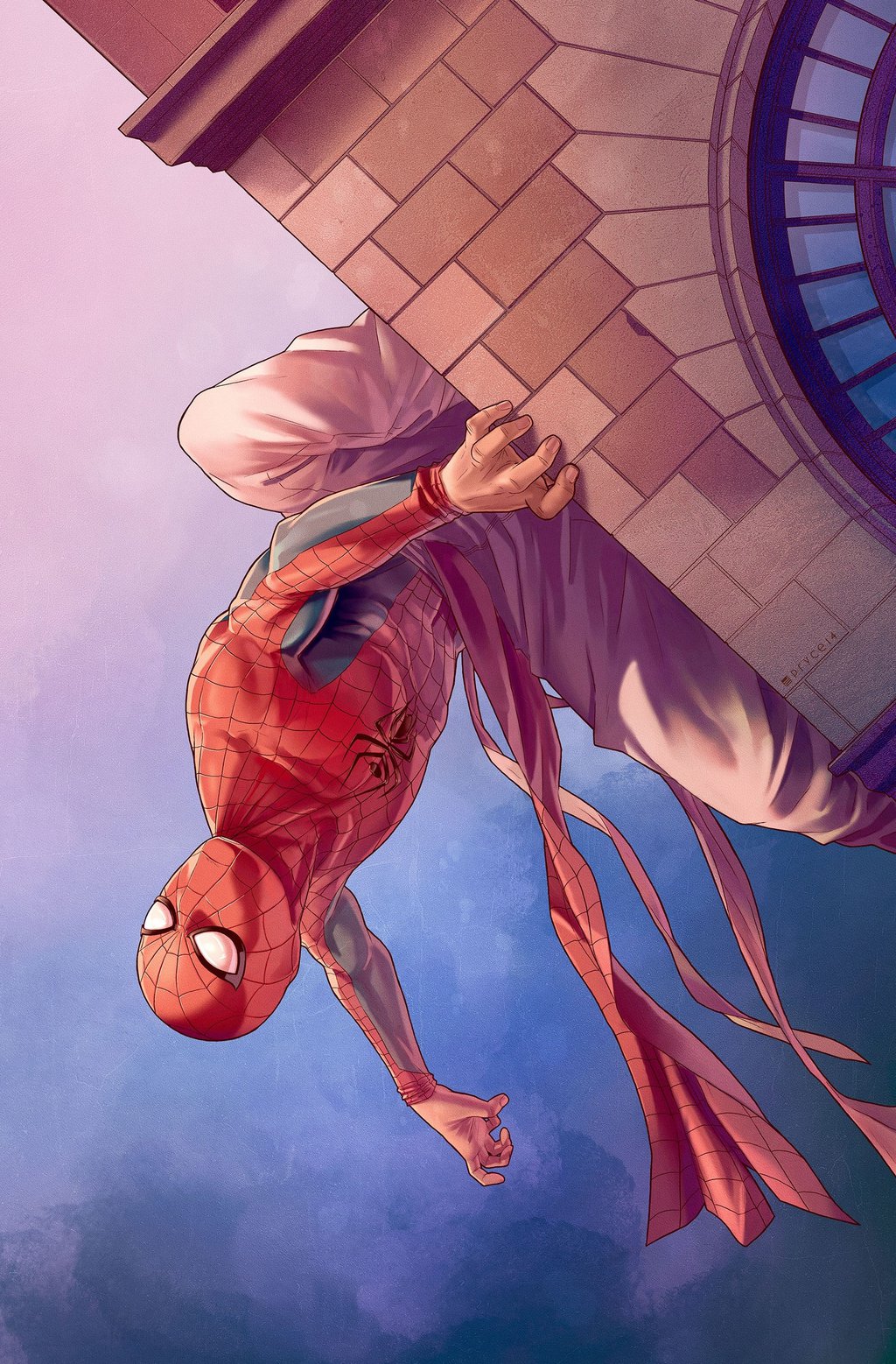 Taken one of the main character spot is Pavitr Prabhakar, A.k.a. Spider-man:India. In this fan favourite Alternate universe, Spider-man origin is set in India instead, using many of the India myths and legends as well as social status. However it still keep the basic story line, bitten by a spider, Uncle Bhim (Ben) get's killed and he must fight then fight Doc Ock and Green Goblin. It was a nice version of Spider-man. He was also one of the main Spidey in the Spider-verse storyline as well as one of the Web Warriors, being (if the Noir rumour turns out to be true) the last human member of the team. This will obviously be using many parts form other figures. The torso, arms and head will be the Pizza Spider with repainted hands. It may need new lower legs but if they wanted to paint the leg white the I wouldn't mind. The feet will have to be new though and the waist cloth can be taken from the Adam Warlock.
---
2. Assassin Spider-man
Introduced in the Spider-verse Storyline, This Peter Parker became an assassin under the tutelage of Wolverine after the death of Gwen Stacy. This more hardcore Spidey as no qualms about killed even modifying his Web-shooters to shot bullets. He was recruited into Superior Spider-man team in the Spider-verse but when they were about to join up with the rest of the Spider-army he was killed by one of the Inheritors. It should be noted that this design is based on a dismissed Alex Ross design for the first Spider-man movie. Given that he looks slightly bigger the normal Peter, he should mostly use the 2099 body mold.
---
3. Arachne (Julia Carpenter)
The second woman to take up the name Spider-woman (and who actually held it the longest until Drew's return), Julia Carpenter is a character originally created for the first Secret Wars. She would prove very popular over the years, even joined the Avengers for a time. When we first got the rumour that we were getting a new Spider-woman in the Lizard wave (which we guessed was most likely ANAD Drew) we believed it could have been this. Turned out not to be true but now we want a new version of Carpenter now. While many people would like a new classic version, I think to make it different from the TB version, we should get the Omega Flight Arachne version. Just like the TB version, this will mostly be a repaint of the Thanos wave Spider-woman with a new head. Since Hasbro is into effect maybe have a effect where the webs are coming out of her fingers.
---
4. Scream
Well we are getting Lasher and Hasbro seemsto want to put a Symbiote in every wave, so why not get the most famous member of the Life Foundation Symbiote. Scream is famous as she was the most psychotic member of the team and one of the few female Symbiote out there. This figure would use the standard female mold with a new face that uses Medusa hair (you don't design that hair just for one person). It could use the Carnage claws.
Came in the Monster Venom wave.
---
5. Puma
The native american millionaire, Thomas Firehearth is the latest warrior to take up the mantle of Puma. Through genetic research from his tribe, He is able to become a hybrid between a human and a puma. At first he fought Spider-man but eventually became one of his greatest allies, even owing the Bugle for a time and using the paper to raise Spidey's public opinion. This figure would mainly use a resculpted Tombstone build, with new hands and feet. It would be nice to get this obscure character whose body could later be used for Beast.
Came in the Kingpin wave
---
6. Overdrive
The last member of the Superior foes of Spider-man, Overdrive as the ability to take over any vehicle and transform it into his design. While a low time villain (he wanted to be a hero), he came into the spotlight during Superior Foes comics. He is the last remaining member that still need to be made. Probably the simplest figure that Hasbro could make, AIM Soldier mold with a new helmet, he could come with a small vehicle like a skateboard or shooter (could come with the head for the BAF to save room) .
---
7. Prodigy
We are getting the Life Foundation Symbiote so why not start a new team (as well as an alternate costume for Spider-man) with the Slingers. I think it would be the easiest to start off with the Leader, Prodigy. This one will use the Spider-UK Mould with a new cape and head.
---
BAF: Scorpion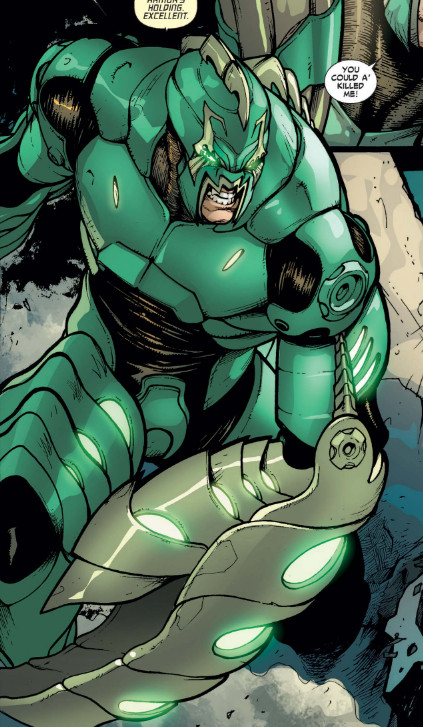 Ah. You guys thought I wouldn't include a classic Spider-man villain. No such luck cause for this wave I think the BAF should be the Scorpion. The long time villain of Spider-man, he has sought the death of not only Spider-man but also JJJ. While many people would love a update to the classic version, I think that version could work better as standard figure. I however would like a more modern version particularly the Spider-slayer version that was seen in the Superior Spider-man storyline. (be glad I didn't pick the one from the 2099 storyline.) This will be brand new sculpt obviously.
Confirmed for Far from From wave
---
Well what do you guys think? Will we see any of these in the NYCC or even MCM London or Toy Fair 2018? Do you guy have a ideal wave. I'm thinking of making this a contest when I hit 300 like in Facebook, which is only has 17 likes, where you could win a free Marvel Legends figure (Marvel Legends GOTG Vol.2 wave 1 Starlord). Still working through the details so be sure to check back. Let me know what you think.